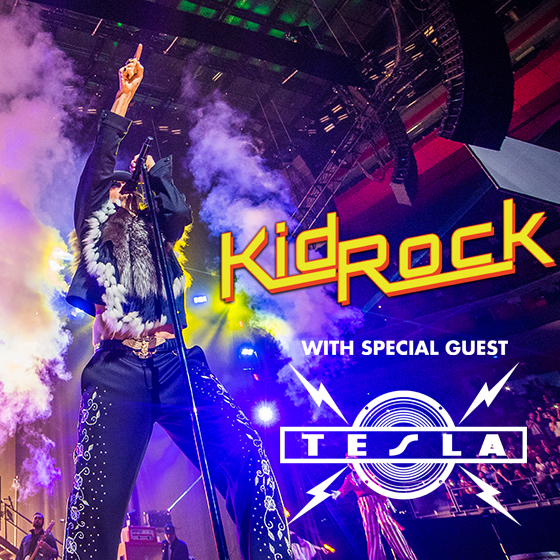 Kid Rock with special guest Tesla **2nd Show**
Date: 2021-08-15 | 6 PM
Tickets:
$195.00 / $164.00 / $132.00 / $49.00
On Sale: 2021-06-12
Venue: Outdoor Concert
Buy Tickets
---
Kid Rock burst onto the music scene in 1998 with his Devil Without a Cause album and hasn't looked back. From hit singles like "Bawitdaba" and "Cowboy" to "Picture" and "All Summer Long," the recording artist has blazed his own trail in the music world, having sold over 26 million albums to date and continuing tour. Kid Rock holds the Michigan record for most tickets sold with 150,000 for a run of ten consecutive sold-out shows, and recently set the Little Caesars Arena attendance record in his hometown of Detroit with 86,893 attendees in six sold-out shows. On the heels of his arena success, Kid Rock recently announced his "American Rock n Roll Tour 2018" in tandem with his brand-new album Sweet Southern Sugar. The tour kicks off on January 19 at Bridgestone Arena in Nashville, Tennessee and will continue with 21 shows from coast to coast. Sweet Southern Sugar is Kid Rock's first album recorded in Nashville and features recent singles "Tennessee Mountain Top," "Po-Dunk," and the tour name, "American Rock n Roll." Kid Rock remains at the center of media attention in regards to his musical and personal ambitions, leaving his mark in a multitude of genres.
Tesla
That they are still roaring and soaring should be no surprise. That's just how they are built. TESLA may have been born in the mid 80s eruption of leather, spandex, and big hair, but this band has never been about those things. Hardly. Their bluesy, soulful sound is strongly embedded in the roots of organic, authentic, 1970s rock and roll.The same roots that produced bands like The Allman Brothers, Grand Funk Railroad, AC/DC, Lynyrd Skynyrd, and Aerosmith.The ground started shaking up in Sacramento, CA, in 1984;gold country that would soon be producing some platinum. They started out as City Kidd, until someone suggested they change their name in honor of eccentric inventor Nikola TESLA, who pioneered all things electrical–and who, like any revolutionary rock and roll band, made magic working with the basic forces of nature. A blizzard of industry showcase gigs and TESLA quickly scored a deal with Geffen. Their 1986 debut album, Mechanical Resonance,would eventually go platinum, nestled comfortably in the Top 40, and produce the iconic hard rock hits,"Modern Day Cowboy" and "Little Suzi." Today, Mechanical Resonance lives on as one of the most successful and acclaimed debuts of the era.