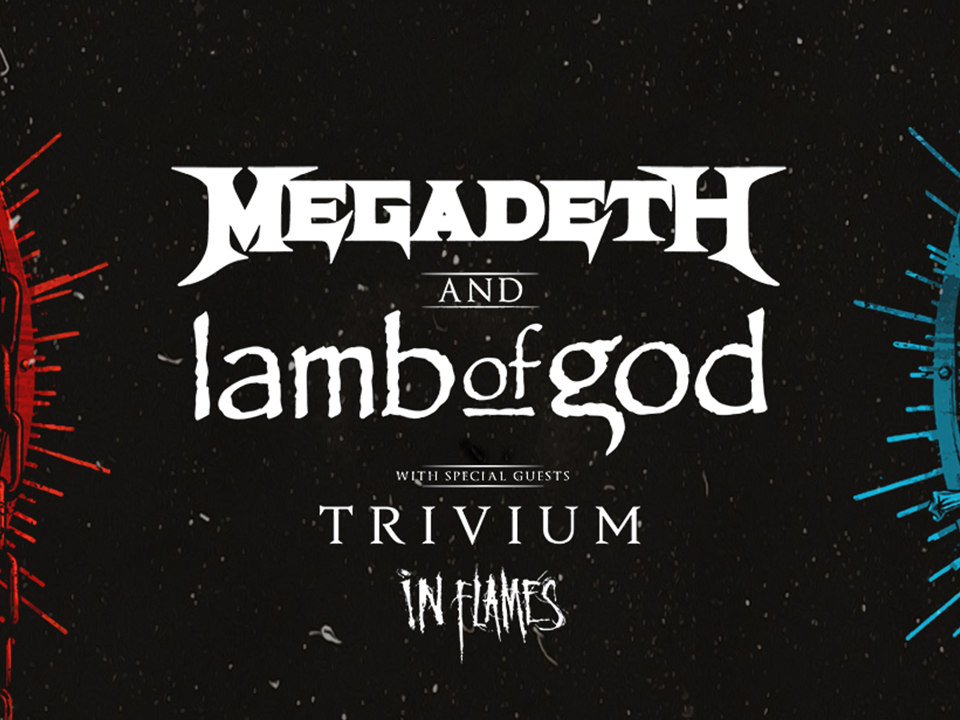 Megadeth & Lamb of God with special guests Trivium & In Flames
Date: 2021-09-24 | 6:00 PM
Tickets:
$24, $40, $69, $72
On Sale: 2021-02-13
Venue: Outdoor Concert
Buy Tickets
---
"Out of an abundance of caution surrounding the recovery from the Covid-19 Pandemic, the entire Megadeth & Lamb of God wsg Trivium and In Flames tour has been rescheduled into late summer-early fall 2021.
The date that was confirmed at the Soaring Eagle Amphitheater at Soaring Eagle Casino originally planned on July 10, 2021, has been rescheduled to Friday, September 24, 2021, at 6 pm.
All tickets purchased for the July 10 appearance will be honored at the Friday, September 24 performance."
Megadeth

Megadeth is an American heavy metal band from Los Angeles, California, formed in 1983 with its roots in thrash metal, a genre that its founder, singer/songwriter and guitarist Dave Mustaine helped pioneer. The band has since released 14 studio albums.
Mustaine's musical roots began early on listening to AC/DC and Led Zeppelin, and took form in the New Wave of British Heavy Metal when he co-founded Metallica. Megadeth emerged in 1985 at the forefront of the thrash/speed metal scene with their seminal debut KILLING IS MY BUSINESS…AND BUSINESS IS GOOD (recently recognized by VH1 as the "Greatest Thrash Metal Debut Album of All Time"), and continued on a blistering path of albums and tours throughout the decade. The nickname "world's state-of-the-art speed metal band" and the critic-coined "intellectual thrash metal" were often used to describe Megadeth's sound, referring to Mustaine's niche for angry, witty, intelligent lyrics about topics like politics, drugs and war, fused with aggressive, intricate guitar structures and a jazz-influenced rhythm section.
With a string of five consecutive platinum and multi-platinum albums Megadeth became one of the biggest bands of the mid-'80s and '90s, boasting such arena anthems as PEACE SELLS…BUT WHO'S BUYING? (The opening bassline was used as the theme for MTV News for years afterward), "Holy Wars… The Punishment Due", "Symphony of Destruction" and "Sweating Bullets", along with the top singles in 1997/98 off CRYPTIC WRITINGS, "Trust" (No. 1 radio track), "Almost Honest", "Use the Man" and "A Secret Place". In all, the band has scored five Top 10 albums and two Top 5 releases.
The 90's saw a change in Megadeth's sound with the polished and commercial multi-platinum release COUNTDOWN TO EXTINCTION, which skyrocketed them into multi-platinum success and MTV stardom. The incorporation of this new sound would be a trademark of every release to come, and would eventually earn them numerous accolades including a 2017 GRAMMY® Award for Best Metal Performance for the title track of their 15th studio album Dystopia, 11 additional GRAMMY® nominations, a SILVER CLIO for their DYSTOPIA campaign, 7 platinum certifications, and selling more than 38 million albums worldwide.
In 2018, the band celebrated its 35th Anniversary with a deluxe re-issue of their revolutionary debut album, releasing KILLING IS MY BUSINESS…AND BUSINESS IS GOOD: THE FINAL KILL. The remixed and remastered version reveals unheard parts and performances throughout the record, bonus live tracks, demos, and new album cover artwork.
Lamb Of God
For all its depth, diversity and cross-pollinated ambition, modern metal needs its figureheads, its heroes and its leaders. Lamb of God have been blazing mercilessly away at the forefront of heavy music for the last 15 years, upholding metal's intrinsic values of honesty, intensity and creativity while also daring to push boundaries and think outside the heavy box. Exploding into view with 2000's seminal debut New American Gospel, the Virginian quintet inadvertently kick-started the so-called New Wave Of American Metal at the dawn of the 21st century; and have notched up a succession of huge commercial hit albums and remorselessly toured the globe ever since. The combination of vocalist Randy Blythe's excoriating growls and roars, guitarists Willie Adler and Mark Morton's precision attack and the bowel-shattering rumble of rhythm section John Campbell (bass) and Chris Adler (drums) has both refined and redefined the notion of aggressive metal in the modern era.
With such a dramatic entry point for the writing process for Lamb of God's seventh album, this was never going to be an upbeat affair. Inspired by those initial lyrical ideas, Randy Blythe and guitarist Mark Morton have conjured a collection of dark and menacing but ultimately inspirational lyrics for VII: Sturm Und Drang, an album that deals with extreme real life circumstances and mankind's ability to weather the most brutal storms in the ongoing quest for peace and happiness.
Having lived through times that would have stopped most bands in their tracks, Lamb of God are back in 2015 with a renewed sense of purpose and a fresh perspective. They will embark on a full European Festival tour in the Summer of 2015, and then the Summer's Last Stand Tour across North America, as direct support for Slipknot, and also featuring Bullet For My Valentine, and Motionless In White. Lamb of God are ready to roll.
Trivium
Trivium is an American heavy metal band from Orlando, Florida, formed in 1999. After getting signed to Roadrunner Records in 2004, the band has released eight studio albums and over twenty singles. Their latest album, The Sin and the Sentence, was released on October 20, 2017. The band has sold over one million albums worldwide, with 40 number 1 songs and was nominated for a Grammy for the song "Betrayer" at the 61st Annual Grammy Awards in 2019 for the Best Metal Performance.
In Flames
In Flames are a Swedish heavy metal band, which was formed by guitarist Jesper Strömblad in 1990 in Gothenburg, Sweden. At the Gates, Dark Tranquillity, Soilwork and In Flames are the only remaining bands responsible for developing the genres known as Swedish death metal and melodic death metal.
---
Outdoor Event Rules
The following are prohibited: chairs, coolers, backpacks, pets, umbrellas, strollers, weapons, illegal substances, glass containers, outside food or beverage, audio or visual recording equipment.
For Your Information
Photography restrictions vary per event.
Shoes & shirts must be worn.
Masks may be

required, final decision will be made closer to the event date

Smoking in designated areas only.
All bags & purses are searched prior to event - can be no larger than 12" x 8" x 6"
Event takes place RAIN OR SHINE.