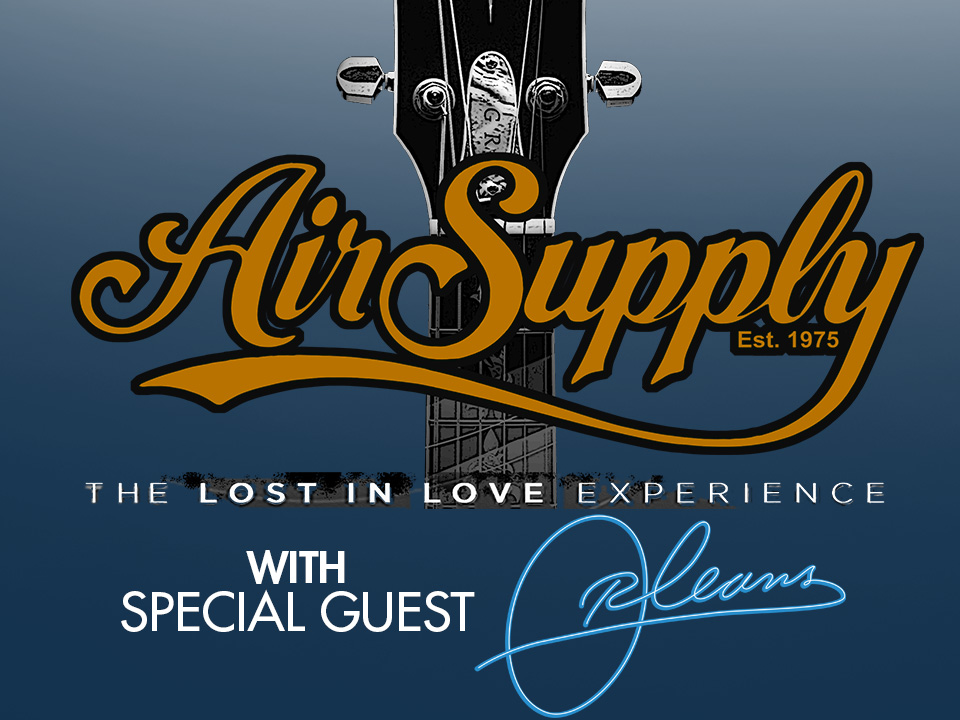 Air Supply: The Lost in Love Experience with special guest Orleans
Date: 2022-01-21 | 8:00 p.m.
Tickets:
$33, $45, $55 & $62
On Sale: 2021-11-20
Venue: Entertainment Hall
Buy Tickets
---
Air Supply

Graham Russell and Russell Hitchcock met on May 12, 1975, on the first day of rehearsals for the Australian production of Jesus Christ Superstar in Sydney. They became instant friends who shared much in common, including their love of The Beatles whom they'd both seen in 1964 in England and Australia respectively.

After the evening performance of Jesus Christ Superstar, they would play in Coffee Bars, Pizza Parlors, and anywhere they could to hone their vocal skills and harmonies. Graham wrote constantly and, with the help of Superstar Pianist Frank Esler Smith, they recorded a few songs on cassette, one of which was "Love and Other Bruises." After taking these demos to all the major record companies and being rejected by all of them but one — CBS Records — they signed a recording deal.

The album was recorded and mixed in a week and "Love and Other Bruises" was released as the first single and immediately shot to the top of the charts. The name of the group came from a dream Graham had — he saw a billboard with flashing lights all around it and the words "AIR SUPPLY' in the center.

The production of Jesus Christ Superstar ended in October 1976 and after only a couple of months, they were invited to open for Rod Stewart in Australia and consequently Rod's North American tour in 1977. Fifty shows in Canada and the United States in all the biggest venues, including Madison Square Garden in New York and The "Fabulous" Forum in Los Angeles.

Presuming they would be the conquering heroes when they returned home, they were bitterly disappointed to find they had basically been forgotten. After several months of disappointment, Graham wrote several songs, including "Lost in Love" and "All Out of Love."

"Lost in Love" was released in Australia in 1978 and again soared to the top of the charts. It found its way to Clive Davis, founder, and president of Arista Records, who immediately offered Air Supply a record deal. The song was released in 1980 and became the fastest-selling in the world, topping the charts in a multitude of countries. "All Out of Love" was the second single released and topped the worldwide charts once again.

Seven consecutive Top-Five singles at that time equaled The Beatles' run. The albums Lost in Love, The One That You Love, Now and Forever, and The Greatest Hits sold in excess of 20 million copies. "Lost in Love" was named song of the year in 1980 and along with the other singles, sold more than 10 million copies.

The trademark sound of Russell Hitchcock's soaring tenor voice and Graham Russell's simple but majestic compositions created a unique sound that would be forever known as Air Supply.

On May 12th, 2020, the band celebrated 45 years… the rest is music history

Orleans

Best known for classic 70s hits "Still The One", "Dance With Me" and " Love Takes Time," Orleans has produced a body of work spanning 16+ albums. They continue to be in great demand for live performances, as they have been for over 4 decades. Co-founders Lance Hoppen and John Hall, along with long-standing members Lane Hoppen, Fly Amero, and Charlie Morgan still deliver Orleans' music with power, class, and integrity to appreciative audiences everywhere. John Hall, whose songs have been recorded by Janis Joplin, Linda Ronstadt, Bonnie Raitt, Chet Atkins, Bobby McFerrin, and others released a new solo album "Reclaiming My Time" in May of 2021.