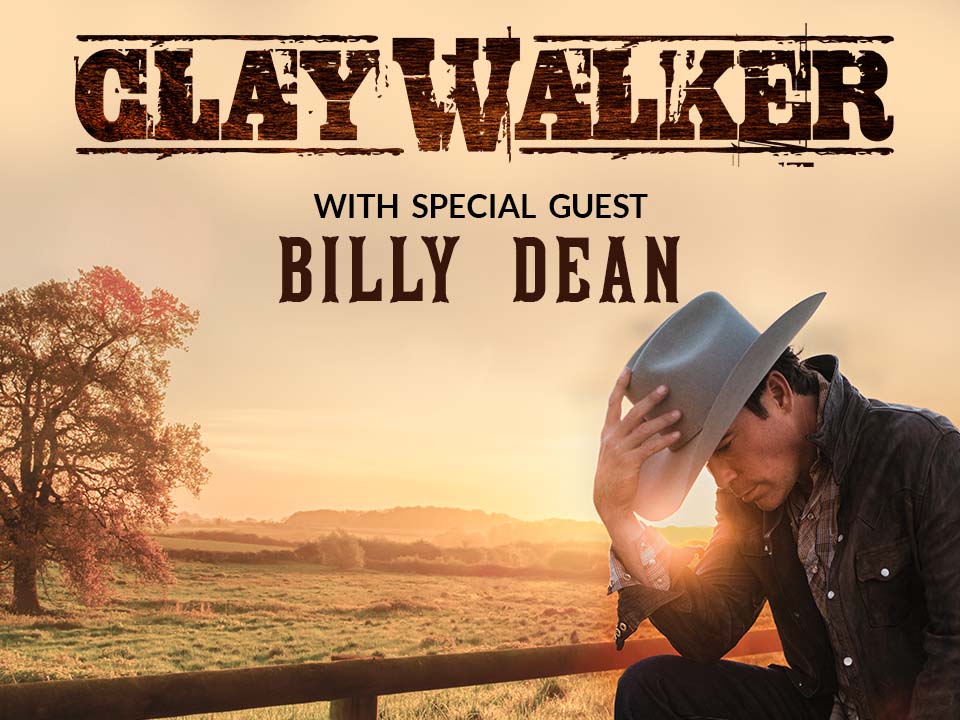 ---
Clay Walker
There's more to the duality of Clay Walker's debut Show Dog Nashville album Texas To Tennessee than the title. Certainly, the realities of place are as central as this comeback album's name implies: Nashville busily working toward the next fresh hit; Texas moving at its inimitable and familiar pace. There's also a mix of songwriting and production approaches, evident and more nuanced relationships between the songs themselves, and the overarching presence of a naturally gifted vocalist who relentlessly pursues his own development as a singer. But don't mistake those dualities for dichotomy – and certainly not polarity. In a storied career dotted with smash singles, platinum albums and countless honors and acclaim, maybe the connection between country's timeless themes and music-of-the-moment timeliness has been there all along.
Many of the country fans behind the almost 20 million on-demand and video streams for his latest single "Need A Bar Sometimes" – who may also be among his 750,000 TikTok followers – are wholly unaware of Walker's history. Discovered in a Beaumont area bar by noted producer and head of Giant Records James Stroud (Toby Keith, Tracy Lawrence, Tim McGraw, Kenny Rogers), Walker was in his early twenties when he started rattling off a string of smash hits. Among them, "Live Until I Die," "Dreaming With My Eyes Open," "This Woman And This Man," "Hypnotize The Moon," "Rumor Has It," "Then What," "I Can't Sleep" and "She Won't Be Lonely Long." His self-titled debut album rocketed to platinum status, the first of four to cross the million-sold mark. Racking up more than 30 charted singles and 11 No. 1s wasn't without its struggles, however.
"Being born and raised in the Houston area, I thought of myself in the line of George Strait and Clint Black, but my first producer had other ideas," Walker says. "James Stroud pushed me more towards pop sounds I fought with. What he was saying, and I think he was right, was, 'Clay, you've got some gears to you that will excite people if you let it.' I was young – 23 – and didn't really settle with that. But now I'm in a sweet spot in music, in life, and I definitely feel the audience has swung around to appreciating music that makes those connections."
Those links are obvious on Texas To Tennessee. "Anything To Do With You" opens the album with smooth bore country that would feel right at home on any of Walker's four platinum CDs. Song two is the counterweight single, with its processed steel guitar lick, wistful pandemic-perfect theme and explosive streaming numbers.
Production was handled in tandem by acclaimed multi-platinum producer Michael Knox (Jason Aldean) and chart-topping songwriter Jaron Boyer ("Somewhere On A Beach," "Hell Of Night," "Girl Like You"). Recording took place in Galveston and Nashville.
"Jaron Boyer is the best songwriter I've ever written with," Walker says. "He's had a bunch of No. 1s and lots of album cuts. Plus, he's a phenomenal singer and track builder. The total package. As a writer, his phrasing and melodies are just insane."
While Boyer is second only to Walker himself on writing credits, the duo of songs at the heart of the album finds Walker working with the formerly married songwriting powerhouse of Jennifer Hanson and Mark Nesler. "Cowboy Loves A Woman" embodies the "Texas" in the album title. It's sequel, the title track, narrates Walker's journey. Together, they are the most direct encapsulation of his core as an artist and as a man. "Catching Up With An Ol' Memory" is perhaps the album's singular moment. The exception that stands astride both worlds with its fresh sonic bed, echoes of heroes past and an airy, vocals-up mix.
"The studio can be intimidating for artists because we don't do this all the time," Walker says. "I'm sure this is part of producers doing their job in being cheerleaders, but when I was singing 'Memory,' Michael Knox got on the talk-back mic with the band and goes, 'We got us a real singer, boys. I think this might be the album take.' That was nice to hear. And then for him to show the respect for that vocal in how it was mixed with vocals at the forefront and all that space around it … Singing well is important to me. Having integrity in my vocal cords, continuing to take voice lessons and working on having what I'm going to call free tone – hey, if you're not trying to get better you never will."
"Cowboy" is inarguably the album's "Texas" anchor. "It reminds me of what made country music great," Walker says. "Not that it's the greatest country song. Don't misunderstand. Nor am I the best singer in country music. I have never and would never claim those things. But I might be in a place where I can connect the value in a song that sounds like 'Need A Bar' and one like 'Cowboy.' And vocally, I'm at my best right now. There's an ease in my voice – particularly on 'Cowboy' – that just makes sense. I sang it through a couple times and we were done. I didn't have to press. We just had it."
Billy Dean
Billy Dean is an American Troubadour who has mastered the art of singing, songwriting, and storytelling. His unique ability to morph into the characters in his songs while performing LIVE, brings the storyline to life with musical drama.
Billy's finger style acoustic guitar playing is reminiscent of James Taylor, and is percussive in nature. "I've never heard so much music coming from one man and one guitar. He's the best I've ever seen", says award winning producer/songwriter Monty Powell.
No matter what venue he performs in, large or small, with his band or just solo, Billy's charismatic charm and approachable personality puts you, the listener, in an intimate living room setting, where he touches every emotional nerve, leaving you musically nourished with a renewed Spirit.
Although Billy's best known in the Country Music genre for his 11 top ten singles, 5 number one's and over 5 million albums sold, his musical roots are entangled with Folk, Southern Rock, Bluegrass and Classic Country.
Billy says his musical influences are ongoing, but his sound will forever have the finger prints of those troubadour's who came before him like James Taylor, Dan Fogelberg, John Denver, The Eagles, Christopher Cross, David Gates and Bread, Willie Nelson, Merle Haggard, and Don Williams.
Billy Dean has been nominated by every major music award entity. Most recently he was inducted into the Florida Hall Of Fame for artist.