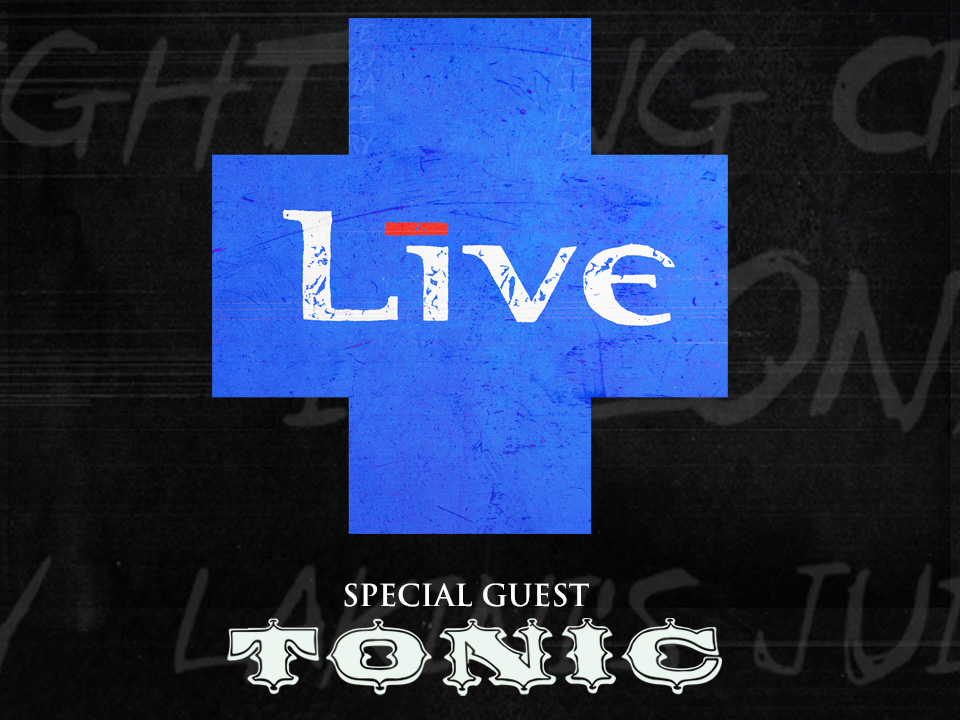 ---
Live
"After a multi-year break from touring, I am totally ecstatic about singing and playing for LIVE fans again!" says +LIVE+ singer, songwriter and frontman Ed Kowalczyk about the multi-platinum and critically acclaimed band's tour dates this fall.
"And I'll be surrounded," Ed adds," by an absolutely stellar group of musicians that have all spent years captivating audiences onstage with LIVE all over the world. It's going to be amazing and I can't wait to see you all!"
For these dates, the band's classic lineup is unavailable due to various extenuating circumstances, so Ed has hand-picked a group of musicians who are part of the band's extended family: guitarist Zak Loy (who's been with Ed and +LIVE+ for 10 years), drummer Robin Diaz (the former Hole member who performed with the band for two years) and bassist Chris Heerlein (who played in ED's solo band for six years).The +LIVE+ set list will be comprised of their massive hits and fan favorites—songs that have defined the alternative rock era.

About +LIVE+:
+LIVE+ have sold over 22 million albums worldwide and earned two number one albums: Throwing Copper and Secret Samadhi. Their catalog is filled with such gems as "Lightning Crashes," "I Alone," "All Over You" and "Lakini's Juice," which live on today as classics on rock radio. Throwing Copper—which the band celebrated in 2019 with a new deluxe 25th anniversary edition via Radioactive/Geffen/Ume along with a global tour across major festivals, amphitheaters and arenas—produced the band's biggest single, "Lightning Crashes," which was #1 at Modern Rock radio for ten consecutive weeks. Throwing Copper reached #1 on the Billboard Top 200 and eventually surpassed sales of 10 million albums sold, with Rolling Stone honoring the album with placement on their list, "1994: The 40 Best Records From Mainstream Alternative's Greatest Year." Secret Samadhi (1997) immediately shot to #1 on the Billboard Top 200 and eventually went double platinum. The release of the platinum-selling The Distance to Here (1999) turned +LIVE+ into an international powerhouse and moved the band from arenas into stadiums. +LIVE+ has been and remains today a global concert juggernaut. The band released an acclaimed five-song EP in 2018, LOCAL 717, their first new music in over a decade.
Tonic
Music always undoubtedly brings us closer together. The connection forged runs as deep as any family bond does. Similarly, the story of Tonic revolves around the longstanding, close brotherhood shared among members Emerson Hart [vocals, guitar], Jeff Russo [lead guitar], and Dan Lavery [bass]. Since 1996, the GRAMMY® Award-nominated multi-platinum trio has consistently delivered anthemic and undeniable rock fashioned from eloquent song craft, lyrical honesty, and unshakable melodies. Along the way, they translated true experiences and real memories into a storied catalog that resounds as loudly today as it did over two decades ago.
The songs continue to endure. To date, the band has landed six Top 10 singles, sold 4 million-plus records, and garnered a pair of GRAMMY® Award nominations. As the story goes, Emerson and Jeff linked up together in Los Angeles as Tonic during 1994, with Dan joining the group in 1996. Inspired after catching U2's Joshua Tree Tour in his native New Jersey, Emerson went to L.A., where he and Jeff launched the group. Their full-length debut, Lemon Parade, not only went platinum, but it also yielded the" #1 Most-Played Rock Song of 1997" in the form of the lead single "If You Could Only See." The band's follow-up single,"You Wanted More," served as the lead-off from the platinum Original Soundtrack Album for American Pie and the second full-length, Sugar.
After a five-year hiatus, the three-piece returned to the charts on the heels of Tonic in 2010, landing in the Top 50 of the Billboard Top Rock Albums Chart and Top 25 of the Billboard Top Independent Albums Chart. Following a successful Pledge Music campaign, they re-recorded the seminal Lemon Parade acoustically for 2016's Lemon Parade Revisited.