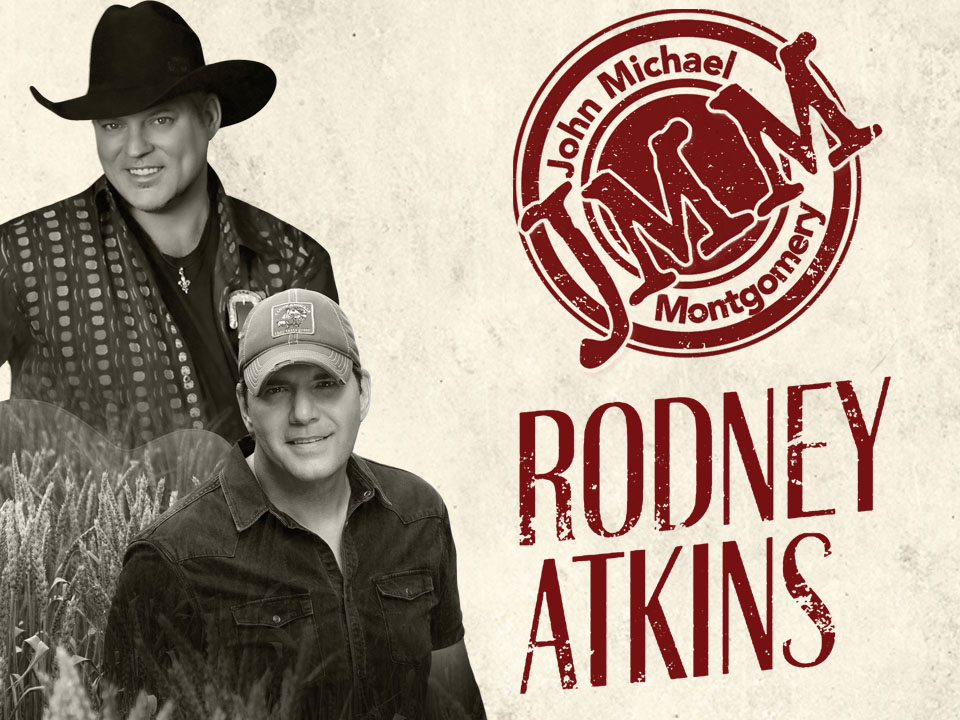 ---
About John Michael Montgomery
John Michael Montgomery has turned an uncanny ability to relate to fans into one of country music's most storied careers. Behind the string of hit records, the roomful of awards and the critical and fan accolades that have defined his phenomenal success lies a connection that goes beyond his undeniable talent and his proven knack for picking hits. Since the days when "Life's A Dance" turned him from an unknown artist into a national star, John Michael's rich baritone has carried that most important of assets—believability. Few artists in any genre sing with more heart than this handsome Kentucky-born artist.
It is readily apparent in love songs that have helped set the standard for a generation. Songs like "I Swear," "I Love the Way You Love Me" and "I Can Love You Like That" still resonate across the landscape—pop icon and country newcomer Jessica Simpson cited "I Love The Way You Love Me" as an influence in a recent interview. It is apparent in the 2004 hit "Letters From Home," one of the most moving tributes to the connection between soldiers and their families ever recorded, and in "The Little Girl," a tale of redemption that plumbs both the harrowing and the uplifting. It is apparent even in the pure fun that has always found its way into John Michael's repertoire—songs like "Be My Baby Tonight" and "Sold (The Grundy County Auction Incident)," where John Michael's vocal earnestness takes musical whimsy to another level.
John Michael's origins lie in deceptively modest beginnings. He was born in Danville, Kentucky, to parents who imparted a lifelong love of music.
"Where most people have chairs and sofas in their living rooms," laughs John Michael, "we had amplifiers and drum kits."
The family band played on weekends throughout the area, and John Michael and his brother Eddie eagerly soaked up everything about it.
"To a certain extent," he says, "my dad always had a natural ability to draw fans and entertain people; I don't care if it was on the front porch, the living room, or on a stage. I think that transitioned to me and my brother being able to do that on stage."
John Michael took over lead singing chores after his parents divorced, and he performed for a while in a band called Early Tymz with Eddie and their friend Troy Gentry. Nashville talent scouts began hearing about and then seeing John Michael perform and by the early '90s he had a record deal.
The hits followed steadily, with songs like "Rope The Moon," "If You've Got Love," "No Man's Land," "Cowboy Love," "As Long As I Live," "Friends" and "How Was I To Know" establishing him as one of the elite acts of the era. He received the CMA Horizon award and was named the ACM's Top New Vocalist, setting off a long series of awards that included the CMA's Single and Song of the Year, Billboard's Top Country Artist, and a Grammy nomination. Heavy touring meant he kept the close touch with fans he had begun in the clubs back home.
About Rodney Atkins
Atkins' fifth studio album, Caught Up in the Country, reveals an artist who is confident enough to know that making your best music can require patience and experimentation. While his storied career has reached such heights as being named the Top New Male Vocalist at the 2006 ACM awards and seeing his single "Watching You" become the Number One Song of the Decade according to Country Aircheck, it's been more than seven years since Take a Back Road, his last record of new material. But Atkins knew that this time, he wanted to bring his songs further than he had ever gone before.
"I've never taken it lightly," he says, "but with some of the other albums, I got to take my time for part of the album. But then when you get that first single finished, you gotta go, and you start working at a faster pace for the second half of the album. This time, I got to take that time with every song."
The results, he believes, are the most daring collection of his career, touching on emotions and sounds which continue to expand his range—from the twangy celebration of the album's title track (featuring the roof-raising vocals of The Fisk Jubilee Singers) to the slow-burn cover of Jason Isbell's "Cover Me Up." And with six Number One singles, eight Top Five singles, and over 13 million units sold, Atkins sees that his track record validates his approach.
"As I was working on this album, we put out the Greatest Hits," he says of his 2015 compilation album. "Country Aircheck amassed the most played artists of the decade, and I was the second-most-played male solo artist—but I hadn't even released a single in five of those years. So that was really the justification for taking time to work on this record.
"To see that all those songs were still relevant," he continues, "still fit in with what was happening musically, even if they were a decade old—that was a foundation to build up from and keep going."
The songs on Caught Up in the Country date as far back as 2013, when Atkins started with "All My Friends Are Drunk" (an "anti-party party song," he calls it). "As I worked on that, I started writing, and you sort of get an idea of what you're looking for," he says. "It starts defining itself, the picture you're trying to build. So you ask yourself if you're covering the gamut of how this whole body of work will make somebody feel. With an album, you're building a house, not just trying to build a back porch."
That same year, Atkins married singer Rose Falcon, a relationship that determined much of the music's direction. "She just encouraged me on so many different levels," he says. "I really fell back in love with singing, and she was so important to that. I remember we had a meeting with the label, and I'd written a song called 'So Good,' and they said 'You've been successful at making a song sound like a hit, but I don't know if people really know what you're capable of.' Just being vulnerable—the biggest impact Rose has had is just me putting myself out there."
His new marriage was also an influence on the kind of material Atkins wanted to record. "I'd never sung a real love song," he says. "Every love song I had done was actually about fighting or breaking up. So I knew I wanted to record a love song, but still be gritty and palpable—a love song from a guy has to have some testosterone." In addition, Falcon's vocals can be heard throughout the album, and features on the duets "Figure Out You (Riddle)" and "Everybody's Got Something."