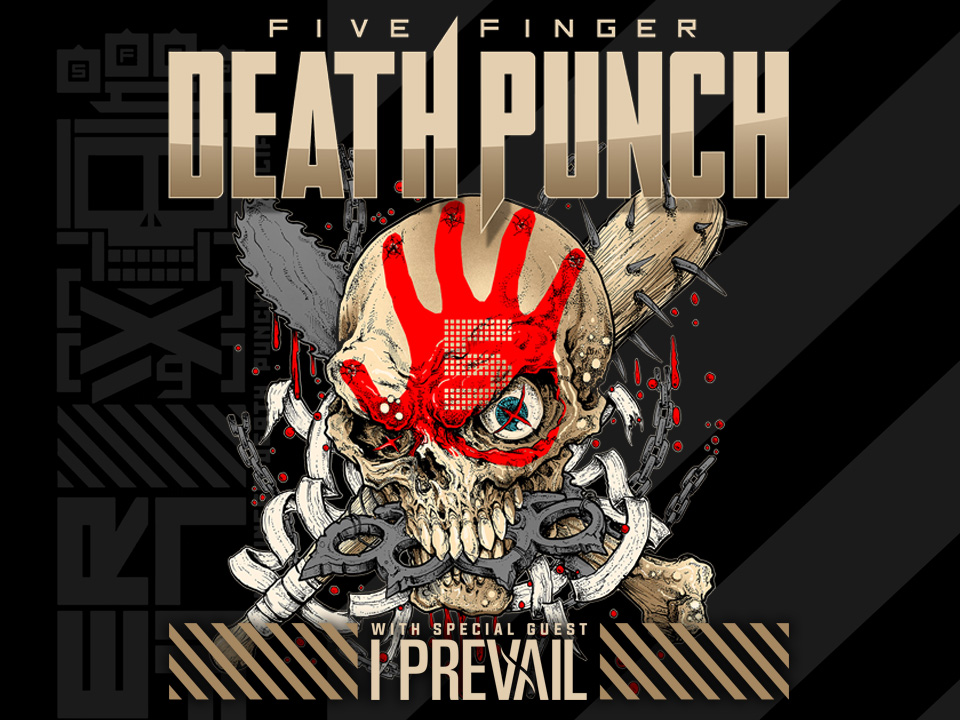 ---
About Five Finger Death Punch
FIVE FINGER DEATH PUNCH have amassed 28 top 10 hit singles and 14 #1 singles. Having become one of the most recognizable names in music, 5FDP frequently play all major festivals and sell out arenas around the world. Since their debut album, The Way of the Fist came out in 2007 the band has released eight consecutive albums, seven of which were certified Gold or Platinum by the RIAA, as well as two chart topping Greatest Hits albums. In addition, 5FDP has earned numerous national and international awards and honors over the last decade, such as the prestigious Soldier Appreciation Award by the Association Of The United States Army, an honor bestowed only upon Elvis Presley before them.
About I Prevail
Self-made, self-defined and walking a path that's entirely their own, I Prevail are ready to embrace their True Power.
Since first joining forces in the Metro Detroit area back in the summer of 2013, key songwriters Brian Burkheiser (vocals), Eric Vanlerberghe (vocals) and Steve Menoian (guitar) have made an immense impact on the world of alternative music. Involved in every aspect of their band from day one, they built a grassroots fanbase through DIY touring, as well as reaching out directly to listeners across the globe, before launching into the kind of meteoric rise that few artists ever experience.
"We were just these three kids wanting to write songs and live out our dream," laughs Brian. "I was working at Dominos, Eric worked at IHOP, and initially we were in our rehearsal space for a year and a half getting this thing together while still working those jobs."
From the hard-hitting, genre-defying introduction that was 2014's "Heart vs. Mind EP" to 2016's powerful debut album "Lifelines", I Prevail quickly became one of rock's biggest breakthrough bands. Then, 2019's "Trauma" took things to a whole new level. Born from incredibly challenging and dark times, it was both a cathartic work of art and an unmistakable statement of intent – showing that no matter what, they'd be playing by their own rules.