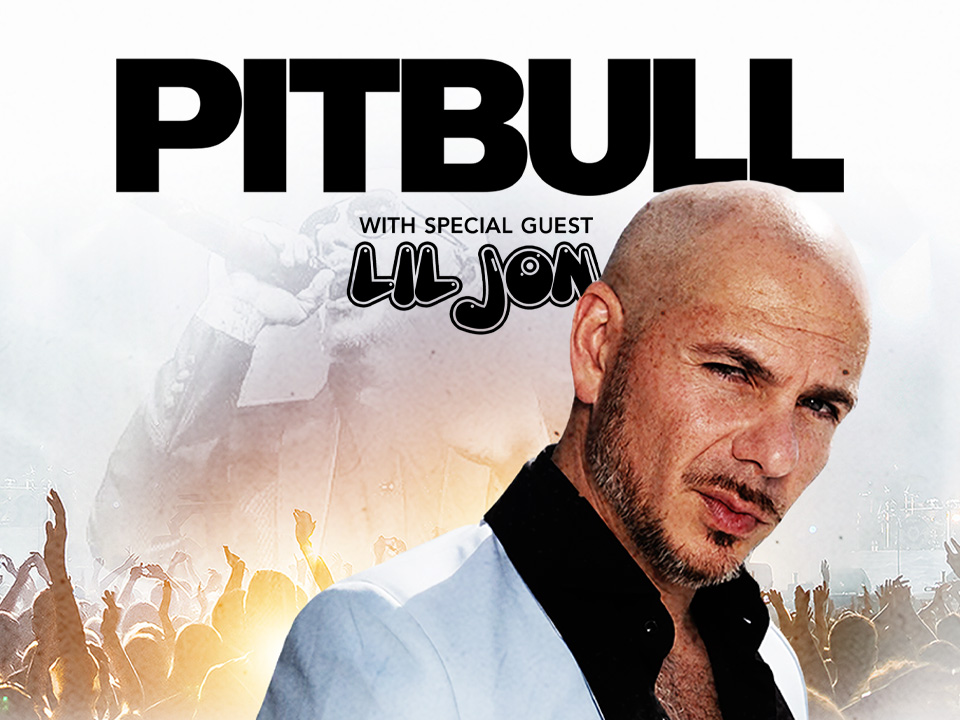 ---
Pitbull
Pitbull invites disruption on a global scale as a GRAMMY®-winning independent international superstar, education advocate, business entrepreneur and motivational speaker. With countless awards, dozens of international number ones, hundreds of gold and platinum certifications, millions of single sales, 25 million album sales, and cumulative video views in excess of 15 billion, one of the most impressive careers in music history set the stage for him to make true change. Not only did he successfully help establish Sports Leadership Arts and Management
(SLAM!) tuition-free public charter schools across the country, he was honored by the United Nations General Assembly on behalf of Clean Water Here; he is a partner in eMerge Americas, the annual tech and innovation summit held in Miami; and he was honored alongside music legends as well as Nobel Peace Prize and Pulitzer Prize winners at the 2019 International Achievement Summit. Pitbull and Horizon Media have partnered to launch 305 Worldwide, a new multicultural marketing agency.
After announcing several partnerships in 2020 such as Espanita Tequila, LivexLive, and "From Negative to Positive" Podcast, Pitbull ended 2020 with a bang by ringing in the new year performing on main stage in Times Square. In the first month of 2021, Pitbull became the co-owner of NASCAR racing team [Team Trackhouse], and proudly served as the Grand Marshal of the 2021 NASCAR Daytona 500. At the same time, he only continues to expand his influence across fitness, health, and wellness. He launched 305-Life as the first daily supplement line to philosophically reflect the vibrant spirit of Miami through its high quality product.
As an investor and brand ambassador, he joined forces with Echelon for the "Pitbull X Echelon" partnership, providing Pitbull-themed rides to millions of users exclusively in the Echelon Fit App. He also teamed up with Columbia Care to introduce his own CBD line, N2P—an acronym for one of his most famous mantras "negative to positive." He returned to the road in 2022 with the sold out North American Can't Stop Us Now Tour, packing
arenas and amphitheaters coast-to-coast. Speaking of, Pitbull has performed for millions worldwide and even joined forces with the #1 life and business strategist, Tony Robbins, for numerous engagements around the globe. He maximizes his own creative, entrepreneurial and personal freedom, yet again, on his next long-awaited English album, coming soon.
Lil Jon
For the last decade plus, the words "Yeah," "Ok," and "What" have been synonymous with multi-platinum, Grammy award winning artist Lil Jon. He has been one of the most prominent figures in music and pop culture alike, performing for hundreds of thousands of fans with Usher & Ludacris, Afrojack, Steve Aoki, Pitbull, TLC (on FOX's American Idol), Yandel, LMFAO and Sydney Samson just to name a few. In 2014, Lil Jon proved once again he's a powerhouse artist teaming up with DJ Snake for their smash hit "Turn Down For What," which created a massive worldwide craze. The string of hit songs haven't stop after that including "Bend Ova" feat. Tyga, "Prison Riot" with Flosstradamus, "Get Loose," (out on DIM MAK) and recent singles "Live The Night," with Hardwell "Savage," with Borgeous and Riggi & Piros and "Take It Off" featuring Yandel and Becky G.
His success as a mainstay in the DJ-world is evident with a current residency at Hakkasan Nightclub (MGM Grand) along with Jewel Nightclub at Aria Resort & Casino. Previously, Lil Jon had a DJ residency for over five years at the Wynn/Encore (Surrender, Tryst, XS); even being named the Las Vegas Resident DJ of The Year. He has traveled the globe DJing worldwide in places such as, but not limited to France, Germany, South Korea, China, India, Dubai, London, Mexico and Australia
Lil Jon continues to be a master at marketing and business as evident by being tapped by Bud Light [Fall 2015] to star in their #UpForWhatever commercial and campaign. He's had an Oakley endorsement deal since 2005, became a Don Julio tequila brand ambassador, partnered with SOL headphones - which helped to launch SOL Deck by starring in the Radio Shack commercial in Fall 2013 – and has launched his own clothing line 2Vicious. His marketing chops came in helpful when casted on NBC's primetime show Celebrity Apprentice (Spring 2011) quickly becoming a fan-favorite nationwide. Lil Jon was back on primetime television in the Spring of 2013 on the cast of Celebrity Apprentice All-Stars, where he came in 3rd and raised almost $200,000 for the American Diabetes Association.
Known best for his role in creating and popularizing the southern movement and lifestyle known as Crunk, Lil Jon delivered a string of regional hits (in the 90's) with the East Side Boyz eventually becoming a national force in 2001 thanks to the tracks "Bia Bia" and "Put Yo Hood Up." Crunk became so popular that Jon became a fixture on Chappelle's Show and artists not directly connected to him (such as Mary J. Blige) began using the word Crunk in their own music. Jon helped usher the word 'Crunk' not only a national scale, but worldwide. The Merriam-Webster Dictionary added the word into their book in 2007.
Lil Jon has a long list of platinum-selling productions, crafting groundbreaking hits for a diverse array of artists such as E-40, Usher, Ciara, The Ying Yang Twins, Ice Cube and more. He's also worked with will.i.am, Miley Cyrus, Britney Spears, Bret Michaels, Travis Barker, Jennifer Lopez, Machine Gun Kelly, DJ Snake and many more. As an artist, he has sold millions of records as the frontman of Lil Jon & The East Side Boyz, whose smash hits "Get Low" and "What U Gon' Do" have been among some of the biggest crossover hip-hop records. His songs have been featured in huge blockbuster movies and television shows including The Hangover, Neighbors 1 & 2, The Proposal, the Step Up franchise, FOX's So You Think You Can Dance, Black-Ish, HBO's Ballers, Horrible Bosses, NBC's Parks & Recreation, The Ellen Degeneres Show, The Tonight Show with Jimmy Fallon, The Late Show with Stephen Colbert and many more.
His consistent hitmaking has earned him legions of fans from Los Angeles to New York to the Midwest and of course his native region, the South. This is no more evident as Lil Jon won BMI's Songwriter of the Year award as well as scored eight Billboard Awards (for the two hit Usher tracks "Yeah!" and "Lovers and Friends"), a Grammy, a Radio Music Award, a BET award, two MTV Video Music Awards, and an American Music Award.