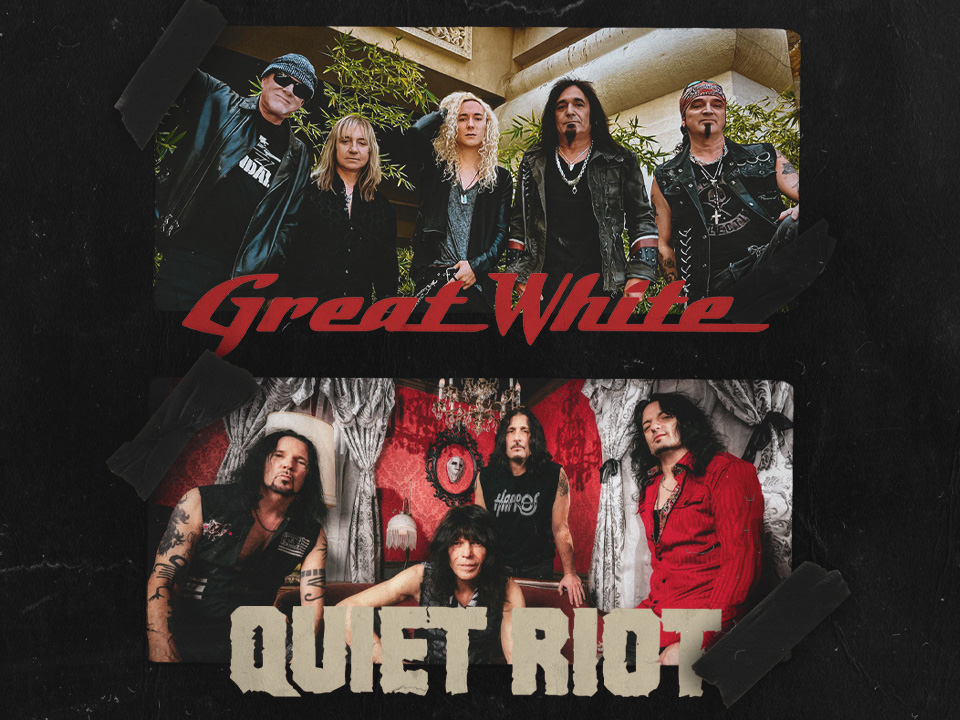 ---
Great White
For a band to continue to thrive 40 years in the music business, the mantra must be, these songs are bigger than any one member. GRAMMY nominated hard rock legends Great White are adding onto that line with the saying: expect the unexpected. It's rock and roll, baby. The peaks and the valleys haven't stopped– nor has the music. Great White's ride runs deep and its passion for the music goes beyond any depth.
Four decades in and Great White enlists Brett Carlisle to take over vocal duties and lead the charge on hit after hit. That arsenal of songs include the Grammy nominated Best Hard Rock Performance hit, "Once Bitten, Twice Shy," Great White has sold over 10 million albums worldwide, has six Top 100 Billboard hits, nine Top 200 Billboard albums, two platinum albums, and clocked the top of MTV four times.
To experience their hits live in concert—"Rock Me," "Mista Bone," "Save Your Love," "House of Broken Love," and "Lady Red Light"—is to ride an emotional wave of sultry connections, arousing lyrics, and an all-out marathon of hard-hitting orchestrations. Audiences might also hear tracks like "Stick It", "The Angel Song", "Big Time" or one of the many deep cuts from Great White's 13 studio albums.
California-based Great White is Mark Kendall (guitar), Michael Lardie (guitar, keyboards), Audie Desbrow (drums), Scott Snyder (bass), and Brett Carlisle (vocals).
Since 1982, the Great White sound has captivated audiences worldwide with crushing, blues-based guitar riffs and swagger that invokes an emotional high for anyone that listens. The band's core writing team of Lardie and Kendall forged numerous hits over the years, and when Desbrow joined in '85, the grooves hooked an amazing stride.
Quiet Riot
QUIET RIOT is a rock & roll phenomenon. Famously described as the first heavy metal band to top the pop chart at #1 on Billboard magazine, the Los Angeles quartet became an overnight sensation thanks to their monster 1983 smash album Metal Health.
Legendary bassist and Metal Health founding member RUDY SARZO has returned QUIET RIOT after almost a 20 year absence. As per the wishes of Frankie Banali who passed away in 2020, and the Banali estate QUIET RIOT continues its historic journey in 2022. The lineup is composed of QUIET RIOT guitarist ALEX GROSSI, vocalist JIZZY PEARL and is now joined by Type O Negative drummer JOHNNY KELLY.
The story of QUIET RIOT begins in 1980 when Kevin DuBrow formed a new band under his own name, working with Frankie Banali and a variety of musicians over the next few years before signing with Pasha/CBS Records, reverting back to the QUIET RIOT moniker, and entering the studio with new guitarist Carlos Cavazo and bassist Chuck Wright to start work on a new album. The year was 1982 and, following Randy Rhoads' well-documented death, former henchman Rudy Sarzo left Ozzy, replacing Chuck Wright who is the bass player on record for both the "Metal Health" and "Don't Wanna Let You Go" tracks, to complete the lineup and sessions for what would become 1983's Metal Health. Driven by the irresistible double whammy of the title track's muscular bass line and a raucous rendition of the old Slade chestnut "Cum on Feel the Noize," the album stormed up the U.S. charts, duly reaching the number one spot and going platinum five times over in the process at that time. The sales of Metal Health have now exceeded the 10 million mark worldwide to date.
QUIET RIOT returned to the studio to record 1984's Condition Critical, which went on to sell over 2 million copies in the US and included another chart-ready Slade cover in "Mama Weer All Crazee Now" and the selfpenned "Party All Night." In 1986 QUIET RIOT re-grouped to launch the QR III record, Sarzo had been Quiet Riot Bio 2022 Page 2 of 2 replaced by former bassist Chuck Wright. Vocalist Paul Shortino stepped in and recorded 1988's simply named Quiet Riot with Banali, Cavazo, and new bassist Sean McNabb.
In 1991, DuBrow and Cavazo began working together once again, joined by Frankie Banali and eventually recording 1993's Terrified with bassist Kenny Hillery. Down to the Bone followed two years later with Chuck Wright back on bass, and in 1997, a one-off performance at an after show party hosted by industrial shock rocker Marilyn Manson who had requested to Banali that QUIET RIOT perform, lured bassist Rudy Sarzo back to the fold.
With that lineup once again, QUIET RIOT hit the road playing venues across America, Europe and Asia. This lineup was captured on 1999's Alive and Well album, and 2001 saw the release of Guilty Pleasures. QUIET RIOT officially parted company with Rudy Sarzo and Carlos Cavazo in October of 2003. In 2004 DuBrow and Banali recruited guitarist Alex Grossi and bassist Chuck Wright and continued to tour nonstop throughout 2006 in America, Europe, South America and Asia. For the recording of Rehab in 2006, DuBrow and Banali entered the studio with bassist Tony Franklin and guitarist Neil Citron, both long time friends of Banali. QUIET RIOT with the lineup of DuBrow, Banali, Wright and Grossi continued to perform live worldwide until November of 2007 when sadly, Kevin DuBrow's singing career was cut short with his passing on November 25, 2007.
After nearly three years since the loss of his friend and bandmate Kevin DuBrow, and with careful consideration, soul searching and with the blessings and support of Kevin DuBrow's family, Frankie Banali decided to continue his journey and the musical legacy of QUIET RIOT along with bassist Chuck Wright, guitarist Alex Grossi and vocalist Jizzy Pearl and continued to play live as much as he could through his courageous cancer battle up until December of 2019. He chose Johnny Kelly to sub for him on dates he could not play and Mr. Kelly has now taken the reins behind the drums going forward as per Frankie's wishes. The band is excited to welcome RUDY SARZO back into the band and are looking forward to touring and recoring into 2022 and beyond.