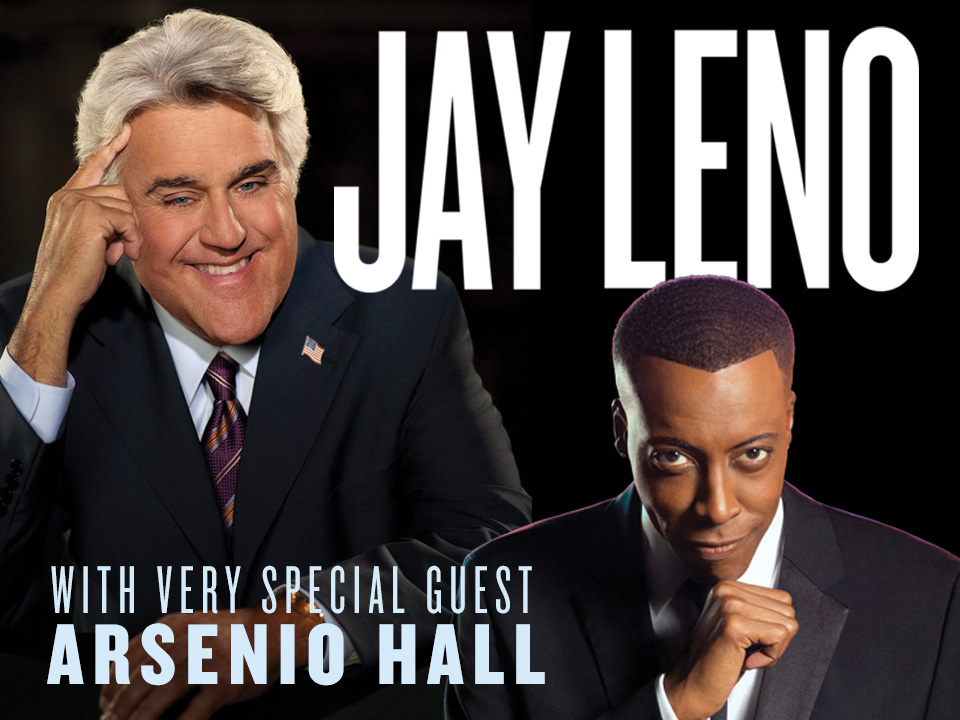 ---
Jay Leno
Acclaimed TV late night show host, admired stand-up comedian, best-selling children's book author, much-in-demand corporate speaker, TV and movie voice-over artist, pioneering car builder and mechanic, and philanthropist…Jay Leno is widely characterized as "the hardest working man in show business."
Jay Leno's late night television ratings domination included two decades as the host of the #1-rated "The Tonight Show with Jay Leno" – he never lost a ratings year in which he served as host.
Leno, currently produces and is host of the CNBC Television series "JAY LENO'S GARAGE" now in its fifth season. "Jay Leno's Garage" explores the world of cars, never forgetting that it's the people behind the wheel who provide the real stories. The series debuted in October 2015 and delivered CNBC's most-watched first season in network history. New episodes of "Jay Leno's Garage" can be viewed on CNBC throughout the year.
Along with his CNBC show Jay is currently on air with various other television series, including "Last Man Standing." When he's not on TV, Leno performs more than 100 stand-up shows annually across the country and internationally; participates in numerous charity and corporate events, does voice-overs for animated series, pens children's books, and writes a monthly column in various automotive magazines. And in his "spare" time (as if he has any), he enjoys working on his collection of classic cars and motorcycles. In fact, he has built a number of cars, including an acclaimed eco-car in his eco-friendly green garage.
Leno is the recipient of many honors, including Emmy, People's Choice, and TV Guide awards, Harris Poll selection as most popular star on television, the Hasty Pudding Award at Harvard University, The Mark Twain Prize, recipient of the Patriot Award given by the Congressional Medal of Honor Society, a star on Hollywood's Walk of Fame, and being the first person to drive the pace car of all major NASCAR events.
He and his wife Mavis, an ardent human rights activist, live in Los Angeles.
Arsenio Hall
Arsenio Hall became a household name with the success of his Emmy Award-winning late-night talk show "The Arsenio Hall Show". The versatile actor, comedian and producer first became involved in the arts at "The Cleveland Playhouse" and continued to hone his craft through his Kent State University years.
In 1979, Hall moved from Ohio to Chicago, Illinois where he tried his hand at stand-up comedy and was discovered by Jazz singer Nancy Wilson. In the following few years Arsenio toured, opening for twenty major headliners including Patti LaBelle, Aretha Franklin, Tina Turner and Stevie Wonder. Hall attempted to diversify his career by making numerous appearances on television shows such as "Solid Gold" and "The Tonight Show Starring Johnny Carson" and doing his first film cameo in "Amazon Women on the Moon,". In 1987, Hall was asked to replace Joan Rivers on the Fox Network series "The Late Show." On the strength of his work as interim host, he was signed to a film and television deal with Paramount Pictures, which subsequently led to the opportunity to co-write and co-star in the hit comedy "Coming to America."
On January 3, 1989, "The Arsenio Hall Show" made its debut. Virtually overnight, Arsenio changed the face of late-night television by captivating young viewers across the country. During his successful five-year run as Executive Producer, Arsenio provided a forum for cutting edge comedy, politics and the television debut of pop superstars.
Arsenio was featured as the comical "Carl Cristall" in Exodus Films' animated feature "Igor," and was featured in the HBO Sports Documentary "Magic & Bird: A Courtship of Rivals." In 2013, Hall returned to late-night television as executive producer and host of the CBS Television Distribution/Tribune Broadcasting nationally syndicated "The Arsenio Hall Show," which aired on stations around the country during the 2013 - 2014 season. He also appeared in a cameo role in Adam Sandler's '90s set Netflix comedy film "Sandy Wexler." In 2017, Arsenio was featured Monday mornings as co-host of the popular nationally syndicated radio program "The Tom Joyner Morning Show" and also appeared on the ABC comedy "The Mayor." He recently enjoyed a triumphant return to his first love of stand-up comedy performing at venues across the country and released his current Netflix stand-up special "Smart & Classy" which can be streamed in various countries across the world.
Most recently, Arsenio brought back his talk show for a 4-night run during the Netflix is a Joke festival in Los Angeles. He can be seen reprising his role as Semmi and other surprise characters in Amazon Prime's Coming 2 America now streaming.