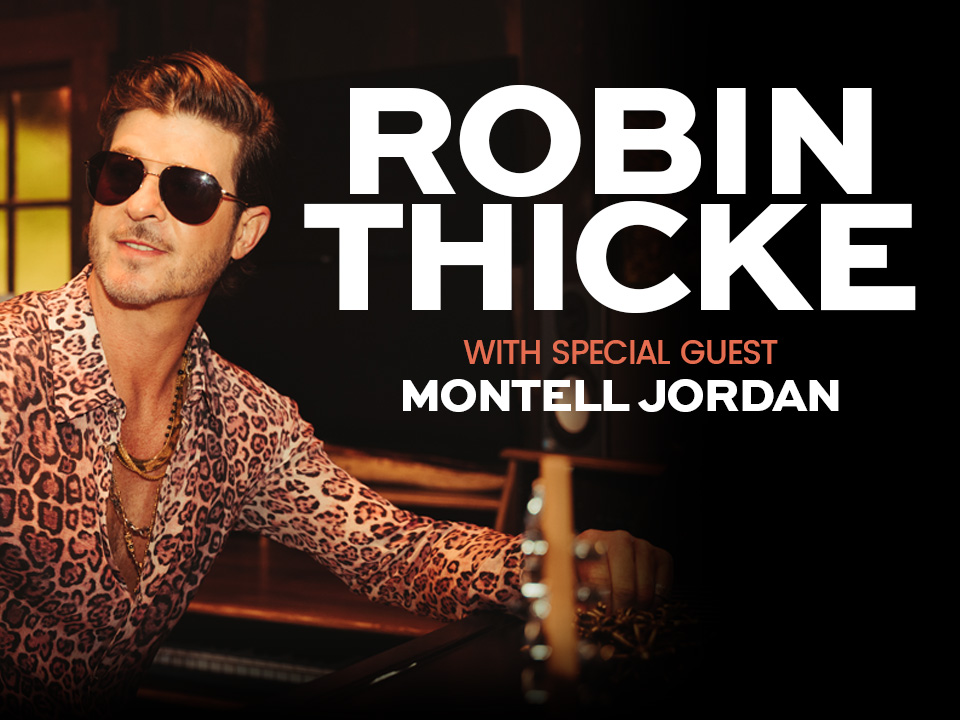 ---
Calling all R&B and pop music fans! Don't miss out on the chance to see Robin Thicke and Montell Jordan perform live in concert at Soaring Eagle Casino & Resort on December 15, 2023. Tickets are on sale Saturday, November 11, 2023 from the Box Office or online.
Don't miss out on this opportunity to see two of the biggest names in R&B and pop music perform live on the same stage. Robin Thicke is known for his hit singles "Blurred Lines" and "Give It 2 U," while Montell Jordan is known for his hit singles "This Is How We Do It" and "I Like".
Robin Thicke
Robin Charles Thicke (born March 10, 1977 in Los Angeles, California) is a Grammy-winning American pop and R&B singer-songwriter, producer, and actor signed to Pharrell Williams' Star Trak label. Also known for being the son of performer Alan Thicke, he released his debut album, called 'A Beautiful World', in 2003. He has gone on to release 2006's 'The Evolution of Robin Thicke', 2008's 'Something Else', 2009's 'Sex Therapy', 2011's 'Love After War', 2013's 'Blurred Lines', and 2014's 'Paula'. He was married to actress Paula Patton until their 2014 divorce, and they have a son named Julian Fuego, born in April 2010.
Alan Thicke married actress Gloria Loring, known for starring in programs such as 'Days of Our Lives', in 1970, and he had the two sons Brennan Thicke and Robin Thicke. Half-brother Carter Thicke would become another member of the clan years later after Alan Thicke divorced and remarried. Brother Robin grew up in a household filled with music, with his dad being a singer (of tracks such as "Thicke of the Night") as well as a co-composer for several TV show theme songs and a seminal actor on both the big and small screens (examples being the shows 'Growing Pains' and 'How I Met Your Mother').
The young Robin Thicke taught himself to play piano at the age of twelve. Even at the age of fourteen, he found that he could play just about anything that he heard on the radio, feeling a drive to keep going further. Before his days as a singer-songwriter performing his own material,Robin Thicke wrote songs for the soul and pop groups 3T (with 1995's "Sexual Attention" bringing Thicke alongside Damon Thomas), Brownstone (with 1997's "Around You"), and Color Me Badd (an example being 1996's "Sexual Capacity"). He also collaborated with the acclaimed production duo of Jimmy Jam and Terry Lewis on several songs for Jordan Knight's 1999 self-titled album. Thicke seemed to receive a great omen when Knight's album was certified Gold and gained huge fan acclaim.
Montell Jordan
Montell is a born-again Christian and can be seen at Victory World Church in Atlanta, Georgia, where he lives and worships with the church team called Victory World Music. In 2010 Jordan planned to make a comeback album as his foray back into the music industry. However, during a fast at the Victory World Church, Jordan said he was told by God to quit the music industry. He decided to cancel his plans and dedicate his life to his faith. Jordan ultimately ended up quitting the music industry.
Jordan created a music collective at Victory World Church called "Victory World Music." In early 2011, they released a Christian album featuring the song "Shake Heaven", with Beckah Shae.