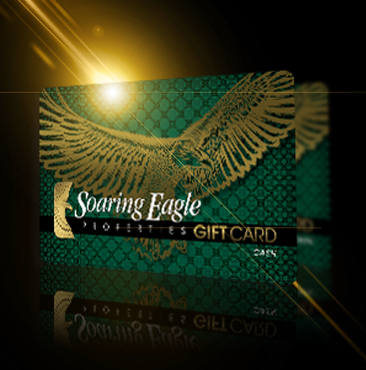 Eagle Gift Card
Redeemable At
Casino Main Cage
Slot Palace
High Stakes Bingo
Hotel Front Desk
Siniikaung Bistro
Legends Diner
Ascend Sportsbook & Lounge
Soaring Eagle Box Office
Soaring Eagle Casino Gift Shop
Soaring Eagle Spa
Saganing Eagles Landing Gift Shop
Saganing Eagles Landing Main Cage
Must be purchased with cash only. Cannot be purchased with reward dollars. Cannot be purchased with credit cards or checks.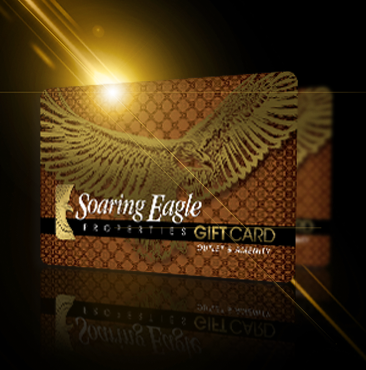 Amenity & Outlet Gift Card
Redeemable At
Hotel Front Desk
Siniikaung Bistro
Legends Diner
Ascend Sportsbook & Lounge
Soaring Eagle Box Office
Soaring Eagle Casino Gift Shop
Soaring Eagle Spa
Cannot be redeemed for cash or casino play. Cannot be purchased with reward dollars.
Buy Soaring Eagle Gift Cards Here:
Soaring Eagle Hotel Front Desk
Soaring Eagle Concierge
Soaring Eagle Casino Main Cashier
Slot Palace & Bingo Hall
Ziibiwing Cultural Center
Sagamok Shell
Soaring Eagle Gift Shops
Saganing Eagles Landing Casino (Eagle Gift Cards Only)
Online purchase unavailable, please call 1-877-232-4532 for more details.
Order Limitations
Each order can only be shipped to a single location. If you would like cards to be shipped to multiple locations, you will need to place separate orders. In addition, if you wish to purchase gift cards with different card values, you will need to place separate orders. Limited to 2 gift cards per shipment. Mail to Canada cannot be tracked.
Terms and Conditions
Purchase and use of this gift card constitutes acceptance of the following terms and conditions. The gift card must be presented at time of redemption. The value on this gift card will not be replaced if the card is lost, stolen, altered, destroyed or used without your permission. No cash back or refunds will be given. Management reserves all rights.